A New Era of Capability | Jeep Wrangler Hybrid 4xe Coming to Midstate Dodge Spring of 2021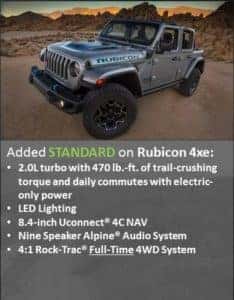 The most efficient and capable Jeep Wrangler ever! It's hybrid innovation in a 4×4 with no compromises.  Built for the ultimate off road experience in the ultimate 4×4 platform the Jeep Wrangler.   Think of what you can do with 375 horsepower and 470 pound feet torque!  With that much torque you have instant power to crawl over any obstacle, while putting many sports cars to shame with a 0 to 60 mph in just 6.0 seconds!  Most impressive 50 MPGe with up to 400 miles of total range.
The Jeep Wrangler 4xe offers something other hybrids don't have, Jeep's proven off road abilities, hybrid technology to give you multiple benefits, more torque for off road use, better gas mileage to help our planet's environment and best of all the Jeep experience in the ultimate 4×4.
Best of all, the 2021 Jeep Wrangler 4xe comes with thousands in equipment made standard!
All Wrangler 4xe eligible for Federal Tax Credit up to $7,500!