Vehicle History Reports



Our vast selection of used vehicles come from many sources. Some may have come in as a trade from our new or used car operations, have been purchased at dealer sales, off-lease vehicles, direct purchases from customers or purchased from other dealers, banks and credit unions. We sell cars with clean titles only, unless specifically noted. We post a complete AutoCheck Vehicle History Report on our used cars, used trucks and other used vehicles, but from time to time, we we either miss one, or it has just come on the lot. If you do not see a report on the vehicle you are interested in, please contact by phone or by using the form on the left hand side of this page and we will get you a copy at no charge.. We have paid for the report so you won't have to. We are happy to supply them for every car we offer for sale. Some dealers will only show them on cars with no damage history. We understand that at times a vehicle will be involved in a minor accident, yet repaired properly the car is still perfectly safe to drive. In many of these cases, prior repaired damage may save you substantial money over a one owner car with no damage history. For some customers, only a one owner vehicle with no prior accident history is the only thing they will consider. We understand the choice is yours and are happy to provide you with these valuable reports, so you can make an informed decision.
---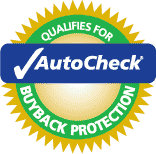 AutoCheck buy-back protection backs the information in every eligible AutoCheck report. It protects you against hidden title brands. Look for the AutoCheck buy-back protection seal, to see if the used car you are looking at qualifies for this free no cost protection. AutoCheck will pay you back up to (up to 110% of the N.A.D.A Guides' retail value) if a covered title defect is found, subject to terms and conditions.
To register your used vehicle please go to:
https://www.autocheck.com/consumers/buybackProtectAction.
---