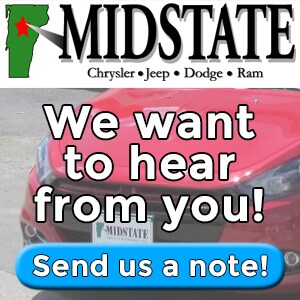 Welcome to Midstate Chrysler Dodge Jeep and Ram. 
Thank you for considering us for your transportation needs.   Our dealership is located in the center of Vermont between Barre and Montpelier on US Route 302.  We have worked hard over the past few years to build both an exciting on-line store presence to complement our physical dealership.  Our staff works hard to make car buying fun and exciting.  I think some of the video testimonial our customers have given demonstrate that purchasing a car at Midstate is fun and hassle free.  We have done dozens of little things to make your purchase from Midstate easy, transparent and stress free.  Our prices are clearly posted online and on the cars here at the dealership.  No looking for a salesperson to find out a price, no asking if you are trading something before you get the price, just clearly marked prices that are some of the lowest prices in the area for each model.  That is why Midstate sells hundreds of cars not only here in Vermont, but all over the country.  Find out just how far customers have come to purchase a vehicle from Midstate by clicking on our
map
, detailing how many states we have sold or shipped cars to.  We invite you to purchase your next vehicle from us and experience the difference.
Hear What Our Customer Say

"Superior service experience..."
I have completed the survey with all 10's as usual.  I wish there was a section for additional comments however.  We have purchased 2 vehicles from Midstate Dodge. One in '09 and more recently in 2014.  The decision to purchase our second Journey at Midstate was an easy one largely due to the superior service experience we received along the way.  Your team consistently exceeds my expectations and I cannot thank everyone enough!!  Please give Mike John Jeff and Dave (I apologize if I missed some names) a special thanks…


 "Way Above and Beyond"
When you go to a car dealership you expect to get the run around, not Paul, he asked what we were looking for the payment we were looking for and boom he came very close to it. Paul went way above and beyond our expectations he explained the car in great detail and even came in on Sunday to the detaling of the car himself because we purchase it late on Saturday. Not only did he do all of this for us he helped entertain our 3 year old which is a HUGE task. Thanks for the wonderful experience!


Deborah, Moretown, Vermont




 "...this Jeep is great!"
Thank you very much for making this sale smooth as possible.  I really enjoyed my time at your dealership and this Jeep is great.



"Our highest compliments"
Our highest compliments & appreciation go to Martin Downing.  If every car buyer could have the opportunity to work with Martin Downing the world would be a better place.  We will certainly suggest Midstate to our family & friends!


Malcolm & Meredith, Strafford, Vermont

"Very nice people"
Very nice people and very helpful they explained everything I needed to know.


Victor, White Plains, New York (Ebay Buyer)

"Welcoming and Friendly"
We have just purchased our 1st vehicle from Midstate Dodge on 2/4/13. Our Salesman, Ed Ryder, was very thorough,had good humor was patient, and accommodating during the sales process. We both truly appreciated his sincere comment of, "enjoying being in car sales, not placing people in a car they might not want, but in one they do. Further, that in doing so, finds value in hoping to improve and contribute to the quality of peoples lives." This spoke highly of personal attentions over sales quotas the bottom line and choosing to not be disingenuous towards his customers. Craig Stevens,& Travis Bailey,also took the time for this purchase to be completed and allowing us to depart in 1 full afternoon, with a new/used vehicle, We Wish to thank all parties involved to make this happen.The sales staff in the showroom were all welcoming and friendly. Thank you for a very positive, car buying experience. 
Joe & Robin, Bolton Valley, Vermont

"Went Beyond!!"
Great transaction!! Excellent service!! Went beyond!! Hope to do business again. 
Collin, Rossland, British Colombia Canada (Ebay Buyer)

"...enjoy our family vacation"
When our car malfunctioned, AAA refereed us to several auto repair centers in near Montpelier & Burlington. Mid-State welcomed our business and responded quickly. Mr. Constantine and his team worked with us to get the needed parts and complete the repair, even though we were there around a major holiday. Consequently, we were able to continue on and enjoy our family vacation.
Kenneth & Family, Virginia

"New Year..."
Thank you so much for all your help in getting me into a new Hyundai Elantra in a matter of hours - what a great way to start the New Year!!! I received a survey call over the weekend about my sales experience, and I attempted to rate it a "12" but the voice on the other end of the phone said it had to be between a 0-10, so I could only "officially" give you a 10.
Rose, West Lebanon, New Hampshire

"
B
est Car Purchase"
Buying a car from your from your dealership was the best car purchase experience I've ever had!
Tyler, CEO Identity Theft Countermeasures Group, Orange Park, Florida

"...Not disappointed after driving 6 hours..."
Your staff and sales are truly good people and were willing to work with the situation. I was certainly not disappointed after driving 6 hours to close the deal.
Justin, Franklin, New Jersey

"Friendly atmosphere..."
I just wanted you to know that I've bought a number of new and used cars, trucks and vans in my lifetime, and I'm hard pressed to remember any dealership where the service and friendly atmosphere equals yours.
Bill, Jericho, Vermont

"Above and beyond..."
A little over a year ago everyone at the Hyundai Dealership went above and beyond helping us buy a new Santa Fe. I just wanted to say thank you! During the blizzard last week the car performed outstandingly! The traction was amazing and the anitlock brakes were great. I couldn't be happier with my Hyundai, and I don't think I'll buy any other brand, in the future. Once again, thank you.
Angela, Essex Junction, Vermont

"Easy and Enjoyable"
Over the past winter I made the decision to retire my aging truck and purchase a new truck. My father-in-law whom himself purchase a Dodge Ram truck from Midstate Dodge refereed me to salesman Chris Campbell. I called Chris the week before I drove up to VT and told him specifically what I was looking for and asked a few questions about the trucks that were currently in stock. Chris assured me that Midstate currently had quite a selection of trucks to choose form and that I shouldn't have any problem finding one that suited me. With this in mind I made the decision to drive 3 1/2 hours from my hometown of Framingham, Massachusetts to meet Chris and view Midstate's current inventory. A few minutes after arriving, and after a wonderful test drive, I fell in love with a Dodge Ram Quad Cab Hemi. I just wanted to say thank you to Chris and Midstate for making the purchase of my new truck so easy and enjoyable.
Jason, Framingham, Massachusetts

"Kicked into high gear"
I would like to thank the staff at Midstate Dodge for the EXCELLENT customer service rendered to me in the purchase of my first car. Your sales team did not pass me by even though I am young and have no credit history, instead they kicked it into high gear. The customer oriented team at Midstate Dodge really did work harder for me.
James, Barre, Vermont

"Recommending your dealership ..."
I want to thank you for the excellent service we received on Saturday when we purchased my son's truck. Everyone was very friendly. I am recommending your dealership to anyone who is looking for a vehicle.
Diane, Dummer, New Hampshire

"The truck preformed great."
A week ago you may remember my wife and I from Canada dropping by your dealership to receive some expert advice in solving some problems we were having with our Dodge Ram 1500 (burgundy). We want to thank you for taking the time to help us determine what the problem might be by the diagnostic test you did, and your thoughts of the problem and your suggestions. The truck performed great upon our return trip to Canada, and now performs a lot better and also notice an improvement in gas mileage as well. Thanks again for your expertise. We also want to let you know how much we enjoyed our visit to the State of Vermont.
Don & Mary, Canada

"The best salesman"
... the best salesman I have ever dealt with. He listened to what I wanted and then did everything he could to find it. When one truck didn't work out he kept looking until he found the right one. He was never pushy but stayed on top of things. When it came time to sign the papers everyone there was really great, the best customer service. I will definitely recommend Midstate Dodge to everyone I know.
Pan, Plainfield, New Hampshire