What makes our dealership unique?  It's our ability to recognize that in today's market we need to meet your needs and work around what for most customers is a very busy lifestyle.  That is why we offer a vast selection of used vehicles to fit almost anybody's driving needs.  We have an array of flexible financing plans suited to fit any budget.  We pride ourselves in presenting a wide variety of pre-owned vehicles, with a web site that presents you with ample pictures of the vehicle, equipment lists, descriptions of the vehicle, vehicle history reports and warranties.  If you live in New England, great we are close by. 
  For some of our customers, a trip to Vermont is not necessary, they have purchased from us over the phone and had the car shipped to them.  The map below illustrates the number of states from which customers have purchased their vehicles from Midstate Dodge, Chrysler, Ram and Hyundai.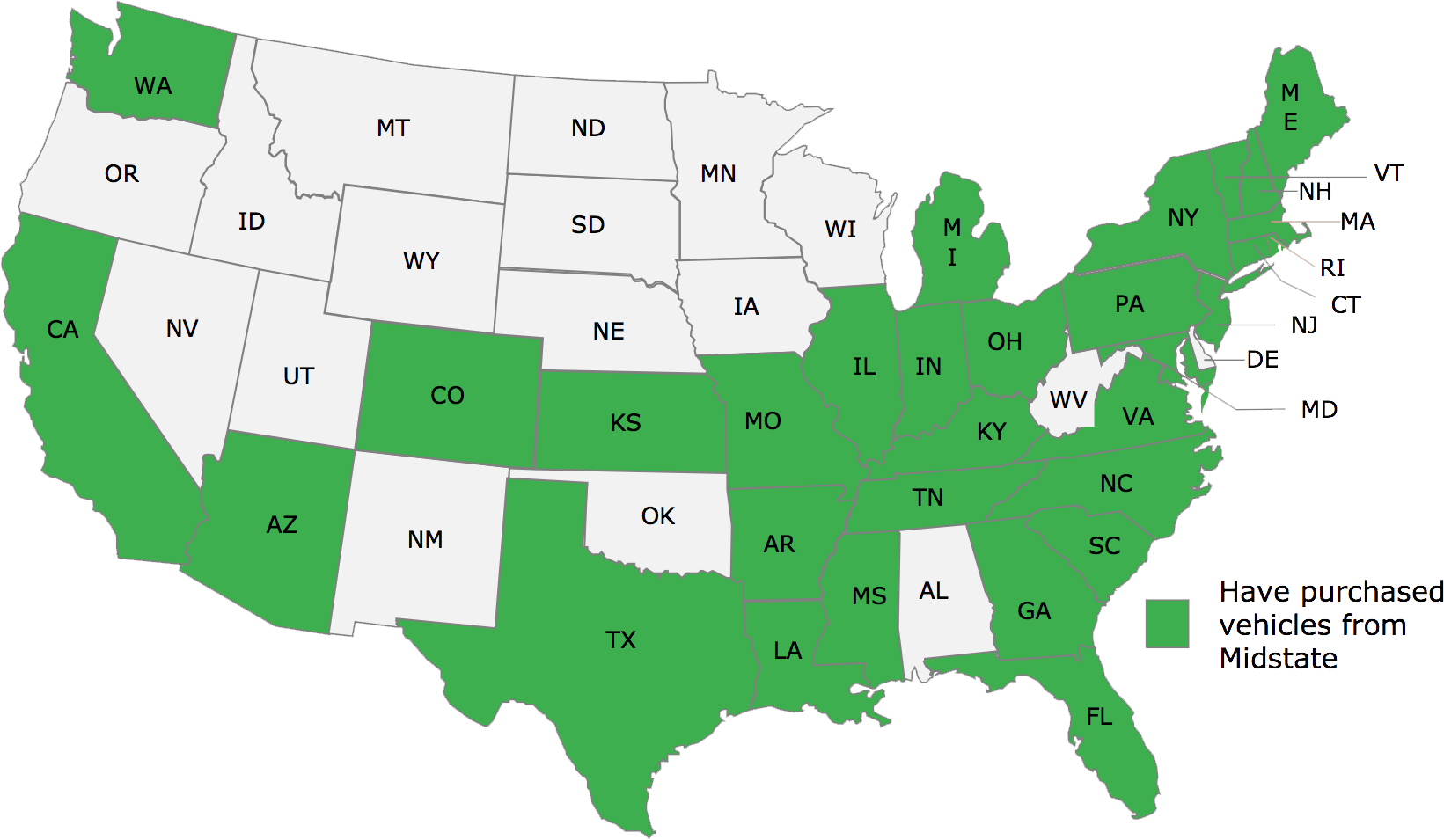 FREQUENTLY ASKED QUESTIONS
What is the source of your inventory?
We have many different sources for the cars and trucks we stock.  Vehicles may have come in trade from our new or used car operations, have been purchased at dealer sales, off-lease vehicles, direct purchases from customers or purchased from other dealers, banks and credit unions.  We sell cars with clean titles, this means we will never retail salvage, or flood vehicles unless specifically noted.  We post complete Vehicle History Reports on our used vehicles.  If for some reason you do not see a report on the vehicle you are interested in, please contact us and we will get you a copy free of charge.  We have paid for the  report so you won't have to.  We are happy to supply them for every car we offer for sale.
What source of payments do you accept?
We accept verified cashier checks drawn on US banks, in US funds, local checks subject to approval, wire transfers and cash.  In addition we offer financing through several national lenders, regional banks and local credit unions.  If you are interested in getting pre-approved for credit, please click here to access our
secure on-line credit application.


I live out of state and want to fly in or take the train to buy my car?

No problem!  We have had customers do this before and it is easy.  Please make arrangements to fly into Burlington International Airport (Airport code BTV) and we will pick you up.    In addition, we have an excellent airport
(Airport code MPV)  for private planes located just up the hill from Midstate Dodge.  Amtrak
serves the Barre-Montpelier area with a station at Montpelier (Station code MPR)  This stop is just a few miles from Midstate Dodge.  No matter what method you chose,
please call ahead of time giving us your travel itinerary so we can meet you.
What about Warranties?
Most of our used vehicles come with a warranty, the exception being some of the lower priced older vehicles that are sold as-is because of the very low price range and age of the vehicle.  In addition to the warranty that comes with the vehicle, Midstate offers a complete range of optional service contracts
that are honored nationwide.  If you have any questions, please let us know.
Do you accept trades?
Yes we do!  In just five easy steps we can give you a written offer for your trade.  Not only will we take it in trade, we are willing to write a check for the car, should you not want to trade.  Click Here for more details.
What about transportation?
If you decide to purchase on-line or over the phone and do not want to travel to Vermont, we would recommend movecars.com, powered by Central Dispatch, the service we use to move cars around the country when we need to. This web site allows registered trucking companies to be notified that you have a car to ship. 
What other fees are there besides the purchase price?
On-line prices do not include any taxes, registration fees, transportation. 
If you live outside of Vermont and are taking the vehicle out of Vermont, Vermont Purchase and Use taxes do not apply to you and no taxes will be collected.  In addition, we are able to supply a 30 day transit plate to customers taking their purchase out of Vermont at no charge.  This will allow you to drive the vehicle for up to 30 days on the transit plate, allowing you time to register it your home state. 
If you live in Vermont and register the vehicle here, you will be required to pay to the State of Vermont a 6% Purchase and Use tax on the net purchase price after a reduction for any previously registered trade in or factory rebates.   Vermont residents will also have registration fees of:  $76.00 per year (pleasure cars & trucks under 6099 lbs.) for registration, $35.00 for a title fee, an additional $11.00 if a lien has to be recorded on the title to indicate a loan from a finance institution and a $6.00 fee on new vehicles to help offset the cost of the New Motor Vehicle Arbitration Board.  If a Vermont resident has plates they can transfer, the $76.00 registration fee is changed to a $25.00 transfer fee.  For more information on Vermont registration fees, click here
to visit the Vermont Department of Motor Vehicles web site.  If you have any questions about special plates or higher weight class vehicles, please contact us to verify any fees.