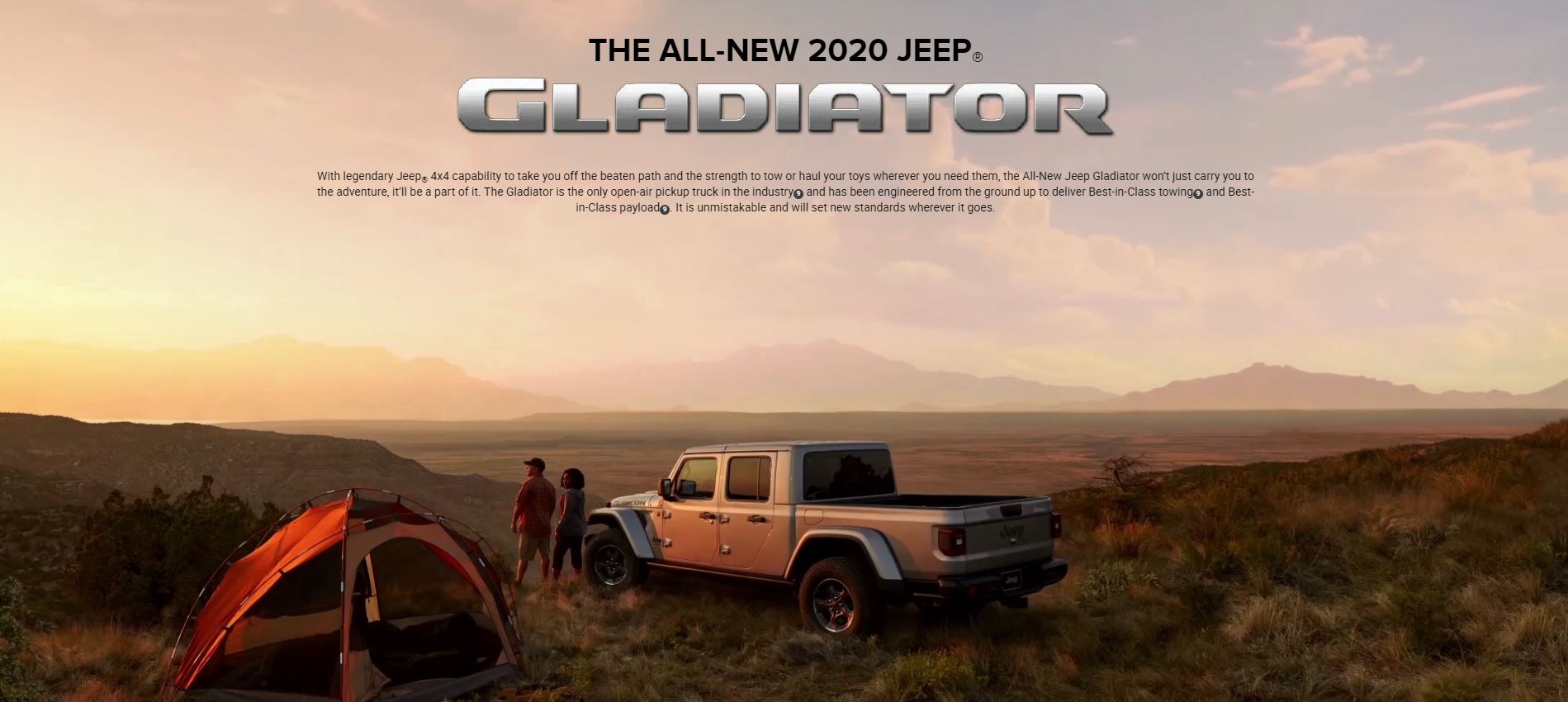 View Wrangler Inventory
Current Incentives
Contact Us
Highly anticipated and already beloved, the new 2020 Jeep Wrangler Pickup, named the All-New Jeep Gladiator is finally on the horizon! Over the last several years, Jeep has teased a Wrangler Pickup and the wait is nearly over. Jeep  released a few details and the truck to the world at the Los Angeles Automotive Show in November 2018.  The styling and off-road capabilities will truly set the 2020 Jeep Gladiator apart from anything else in the market.  A derivative of the Jeep Wrangler JL it appears to share a number of key features like removable doors, roof and a folding front windshield to truly enjoy the outdoors.
Sources tell us that the Wrangler-based Gladiator, though is shares a lot with the current Wrangler, is distinct with a frame that is 31 inches longer and an extended wheel base so the Gladiator will sport a 5-foot cargo bed, while still having four doors.
If you have any questions or interest in the all new Gladiator, give our team of Jeep specialists at Midstate Chrysler Dodge Jeep Ram a call at (802) 505-6331 or reach out through our contact form at the bottom of this page to get signed up for updates as they come available.
When will the 2020 Jeep Gladiator be released?
While Jeep hasn't confirmed an official release date, reports indicated that we will see it in the spring of 2019, with reported production of pilot builds already being assembled in FCA's Toledo plant, which also assembles the Wrangler.  Production is slated to increase at the plant right after the first of the year. 
What can drivers expect?
The new Gladiator will have best-in-class towing of up to 7,650 pounds, so whether you are towing a boat to the lake or an ATV in to the back woods, you can count on this truck to make your adventures happen.  The five foot box will carry up to 1,600 pounds of payload allowing it to also claim best-in-class payload capacities.  Available features will include three position tailgate, roll up tonneau cover and a 115 volt power outlet.
What trim levels will be available?
The 2020 Gladiator will be built with four distinct trim levels.  Starting out with the base Sport trim, to the Sport S trim, Overland and the top of the line Rubicon Gladiator, this truck will offer The most capable Off-Road midsize truck ever.
When can I order one?
We would anticipate Jeep to start accepting sold orders for the 2020 Gladiator pickup in March of 2019.  We are maintaining a list of customers and would be happy to add you to the list for updates on pricing and availability.  This is sure to be one of the most talked about vehicles in recent memory.